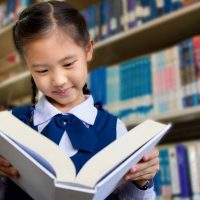 The Lower Elementary program builds on the skills learned at the Casa level.
The program continues to emphasize independence, grace and courtesy, community awareness, self-esteem and enthusiasm for learning.
The program is divided into 3 main areas:
The mathematics area builds on the child's knowledge of addition, subtraction, multiplication and division. Word problems, graphing and fractions are introduced to the child. In the lower elementary program, geometry includes the study of plane and solid geometric figures, triangles, angles and the line.
The language curriculum encompasses a phonetic approach to reading, grammar study, spelling, handwriting and creative writing.
The culture area encompasses the science of botany and zoology, geography and history. The children study the life cycle of living beings, the universe and the earth including cryptography, the solar system and composition and characteristics of the earth. It also includes intuitions of time, the progress of civilizations and the study of Canada.